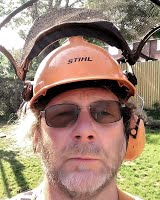 Our Lengthsman 
Mr Paul Wright has been our lengthsman for several years. Paul runs his own business, Longfield Services, and is engaged in tree surgery, garden and home maintenance, fencing, patios, shed bases etc. 
He undertakes Lengthsman duties for a number of different parishes and has attended a Herefordshire Council Health & Safety Course.  He is provided with a standard equipment pack (road cones, road signage, reflective clothing etc) but must provide his own hand tools, any machinery (strimmer etc) and the necessary fuel.  He is required to possess Public Liability Insurance cover of up to £5M.  The Lengthsman is contracted annually to the Parish Council and is self-employed. The contract details the
 tasks
expected of the Lengthsman and that he will work 200 hours per annum or approximately 16 hours per month.