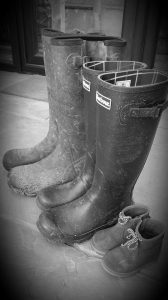 There are over 14km of footpaths in the Parish of Little Dewchurch, including part of the Herefordshire Trail. In 2006 a number of dedicated members of our parish put together a wonderful booklet containing circular walks around our beautiful parish.  Individual walking routes are available by kind donation of NDP Chairman, Andrew Mann and Steph & Dean Cholmondeley of the Plough Inn.
Within the booklet, you will find a number of walks around the parish which are suitable for a wide range of abilities. These walks have been carefully chosen by a team of conservation lovers whose experience and expertise of the local area are reflected in these routes. We hope you enjoy one or more of our walks around our scenic parish. Remember that stout footwear is advisable and please do follow the Country Code.
If you live in the parish you should have received a booklet. If you require a further copy, please contact us and we will pass your request to our Parish Footpaths Officer. Alternatively, you can download them from the walking routes from the below links.
If you have any suggestions for favourite walks, for a possible future edition or to feature on this site, please let us know. If you find any problems when out walking please contact us and let us know (a grid reference would be very helpful or just the location). We can then contact the Area Rights of Way Warden at Hereford Council, or our own local lengthsman so the issue can be investigated.